Our Beers
Elfique beers are Belgian craft beers brewed using traditional methods.  Our primary aim is to offer a range of products which are delicious to drink and which provide a sometimes intriguing balance of flavours.  A 'legendary' beer, mysterious, with balanced flavours, full-bodied or refreshing – discover the Elfique which suits you best!
Winter Solstice
Characteristics
8% vol.
Dark beer with a high alcohol content.
Dark chocolate and roasted aromas enhanced by a woody and vanilla note brought by the maceration of oak chips during ageing.
Medals
Gold Medal 2020 of the Beer Competition of the Province of Liege.
Zythology
In a stewed dish or as a side dish
For dessert, with tiramisu or other chocolate desserts
As a digestive accompanied by a good vanilla cigar with coffee notes.
Cuberdon Royal
Characteristics
5,5% vol.
Beer made from Elfique Blanche and Cuberdon syrup prepared by the only artisan confectioner in Belgium (Le Roi du Cuberdon).
Zythology
Tasting beer to be savoured at any time, preferably as an aperitif, cocktail or dessert.
Elfique Ambrée
Characteristics
7% alc./vol.
This amber beer is the perfect compromise between a blonde beer and a dark beer: generous, full-bodied and soft, with a fresh aftertaste.
A suggestion of bitterness, it contains malted barley.
Zythology
As an aperitif with dried fruit or nuts, such as almonds, hazelnuts or cashew nuts.
With main dishes such as Liege-style meatballs, rabbit with spéculoos sauce, casseroled or roast pork or poultry.
To accompany strong, hard cheeses like Comté.
With desserts such as crème brûlée.
Elfique Triple Brune
Characteristics
8% alc./vol.
A Triple dark beer with a complex character, refermented and unfiltered.
It brings to the fore a nice light bitterness combined with flavours of liquorice, apple syrup and prunes.
Medals
Gold Medal 2016 at the Concours International de Lyon.
Bronze Medal 2016 at the Barcelona Beer Challenge.
Voted best Walloon dark beer in May 2016.
Zythology
As an aperitif with dried fruit, or nuts such as almonds, hazelnuts or cashew nuts
With main dishes such as beef or large and small game with sauce.
To accompany very strong cheeses such as blue cheeses, Herve cheese, or Chorchire.
With desserts such as chocolate mousse.
Elfique IPA
Characteristics
6% alc./vol.
An "India Pale Ale" style beer: fresh and revitalising, with its pronounced bitterness it quenches any thirst and will be a clear choice as an aperitif!
Hints of various flavours: a touch of lychee, flavoured with hops.
Zythology
With an appetizer, it will go really well with slightly spicy food, or with strong taste, such as rocket.

 

It's best to avoid fish in favour of deep-fried, stir-fried dishes.
For main dishes, pork, poultry and small game in a tasty sauce are perfect companions of IPA, which won't dominate the strong meat flavours. It's best to avoid very spicy dishes as the IPA might increase the spiciness.

 

At the end of a meal, IPA goes really well with fruity desserts, complementing a slightly acidic coulis, for example.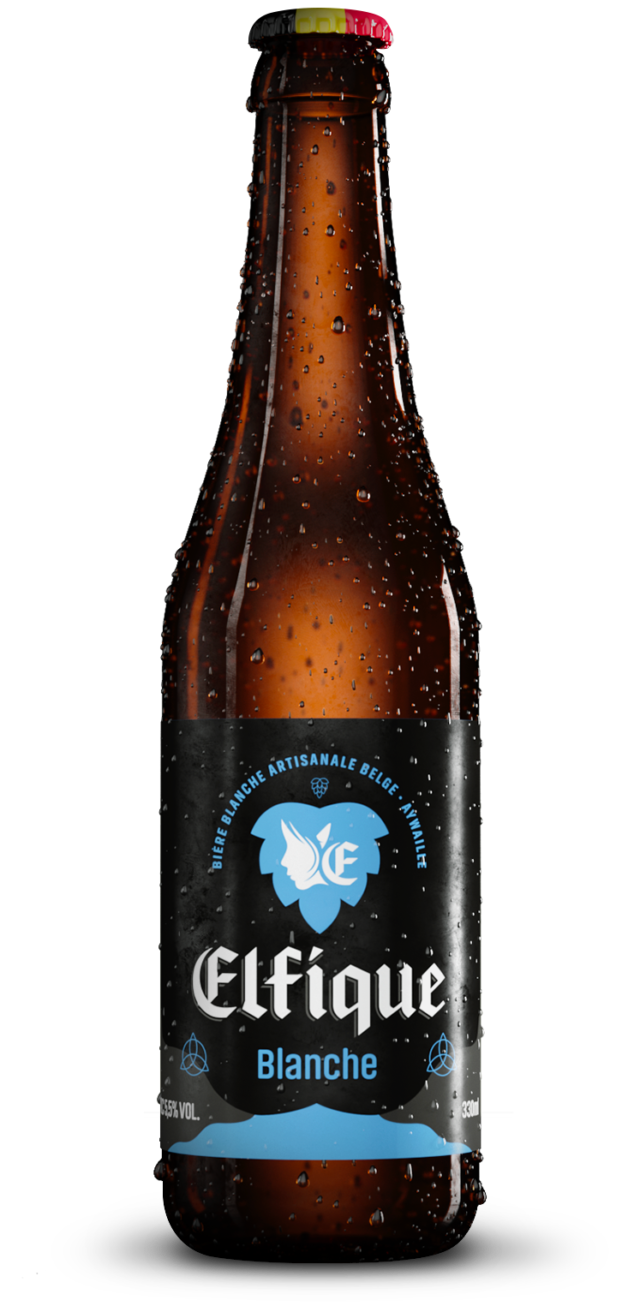 Elfique Blanche
Characteristics
5.5% alc./vol.
With 30% wheat, this white beer is cloudy but not as much as other comparable white beers.

 

Fresh-tasting citrus flavours, with subtle hints of coriander and orange peel, Elfique Blanche is thirst-quenching.
Zythology
Just as an aperitif: light and thirst-quenching, it will stimulate your appetite!
With an appetiser, it's great with light salads, shell fish and other seafood.

 

For the main course, for that perfect marriage between beer and your dish, it goes best with white meat and the delicate taste of fish, in a white sauce for instance.
Elfique Blanche is the best companion for ice-cream or fruit-based desserts, or even … custard!
Elfique Triple Blonde
Characteristics
8% vol.

Blonde in character with an element of bitterness, with spicy notes in the mouth.

Combines the strength of its 8% vol with fresh and fruity notes from the hop.
Zythology
To enjoy with bloomy rind cheeses.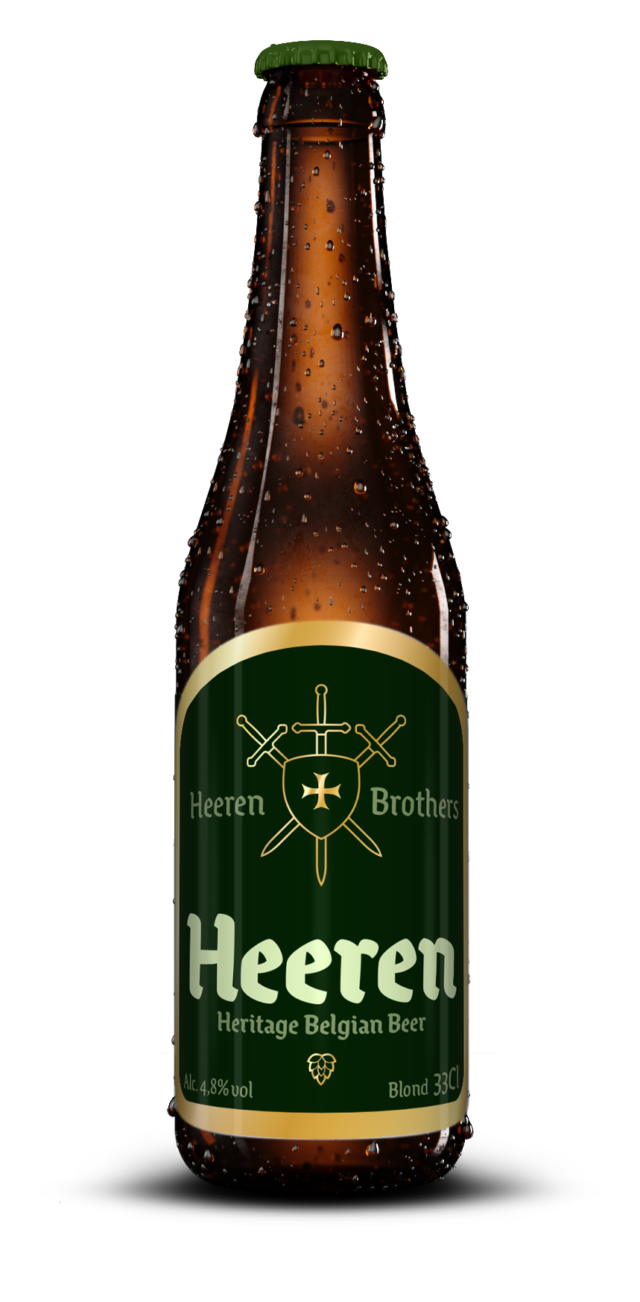 Elfique PILS
Characteristics
This is a classic and authentic beer.
The Heeren, created by our own brewer, is an authentic, honest, straightforward beer.  A classic beer, like we used to drink at the bar after a long, hard day's work.
4,8% vol.

Refreshing and fresh, with a pronounced, but not overpowering bitterness.

Subtle tones of the malt and spring water.

Beautiful golden colour.

It is safe to say that this is a traditional beer with the flavour of the Liege Pils of 50 years ago.
Zythology
This is a balanced, refreshing beer, and is a perfect companion for regional dishes, both simple or more elaborate ones.